K-12 Public School Mask Mandates . . .
have fallen to below 1% of all districts in the US and Burbio will no longer be tracking mask mandates. Burbio tracked 5,000 district mandate policies from October 2021 through December 2022. Below shows a chart with the percentage of US students going to schools with mask mandates during that period.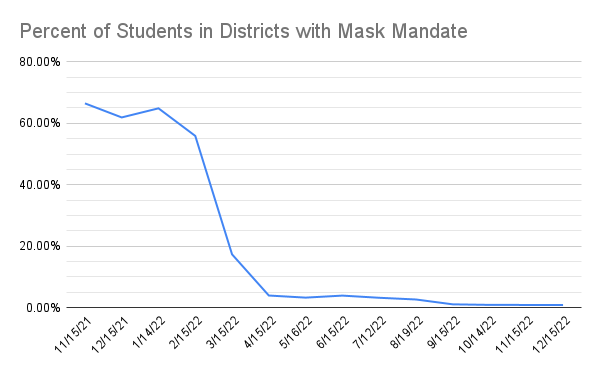 NOTES:
Districts are classified based on what is being enforced at the district level. In many jurisdictions there is legal action in motion and the district's regulation of masks differs from executive-level orders.

Some districts have metrics, such as community Covid 19 rates, or student vaccination rates, that determine mask policies. Our classification of those districts reflects their current mask policies in place.

"Partial" mandates fall into a number of sub-categories ranging from staff mask requirements while students are not required to wear masks, masks within certain distances, and masks for certain groups of students.